Our Materials
We are committed to using the safest fabrics and materials—for your little ones and for the environment.
We believe that by using safe and eco-friendly materials, we can make a positive impact on the world and create a better future for generations to come.
Our Fabrics
Our materials meet strict OEKO-TEX International standards for ecologically safe and healthful textiles.
We believe in creating cozy and comfortable experiences, starting with the fabrics we use. Our cotton sateen is a dreamy material that feels silky and luxurious, perfect for snuggling up in bed all year round. We take pride in offering the world's best sateen, crafted from special Egyptian cotton that's exceptionally soft and comfy. It's like sleeping on a fluffy cloud!
Down Fill for Down Inserts
Our blankets are filled with responsibly sourced European Muscovy down—one of the world's lightest and best insulating materials. It's also amazing at regulating heat and moisture.

We believe that the ducks who make the duvet deserve to live good lives. Every little down cluster used in the duvet is traceable, giving our manufacturer full control of the handling of the down, adhering to EU regulations.
Fill Power for Down Inserts
Fill Power is the measurement of the loft or 'fluffiness' of the down filling. The fluffier the filling, the more air can be trapped by the down, and the more insulating the comforter is. In other words, the higher the filling power, the more exclusive product.
Fill power is typically measured in cubic inches per ounce. The scale generally starts at 400, we fill our blankets at 700 to achieve the perfect fluffiness, warmth, and quality.
Our duvet is season-less and meant to be used all year long.
Duvet Shell For Down Inserts
We chose German Cambric Cotton, one of the finest and most dense kinds of cloth. It's a lightweight weave, because it is woven to keep feathers from escaping while simultaneously promoting ventilation and preventing dust from getting in.
The thread count of 280 shows how luxurious our cotton is. The thread count of basic or standard cotton is around 150.
Allergies
Our duvet insert is guaranteed to be free of allergens. All our down is carefully washed, sterilized and sorted. Our down product is thoroughly tested and approved by independent sources:
Best Quality (Free of Chemicals) (ÖkoTex Standard 100, Class 1).
Completely clean down (Downafresh, EN 12935).
Completely mite-free (NoMite).
Guaranteed new down (EN 12934, Class 1).
Certifications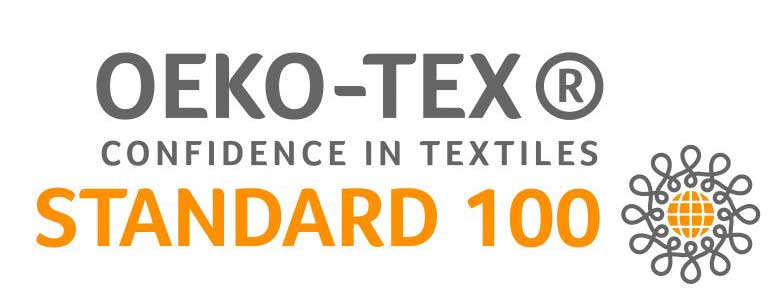 OEKO-TEX Standard 100 is an international product testing system for textiles. It has four product classes, which differ in the amount of residual chemicals they permit.The Class 1 standard permits extremely limited traces of pesticides and other chemicals, which means that the products are suitable for babies.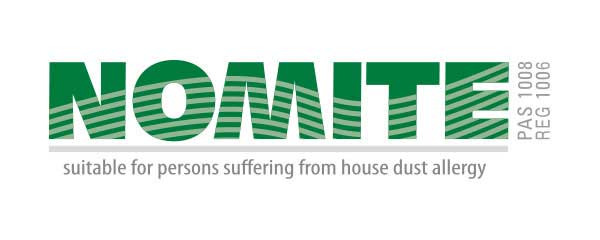 The NOMITE label is the consumer's guarantee that the down product does not contain house dust mites. The fabric is woven so tightly that the mites themselves nor their food can penetrate it.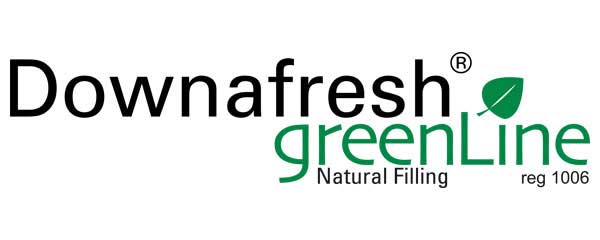 Downafresh Greenline is your guarantee of a clean, high-quality product that has been made in accordance with the strictest washing requirements in Europe. This means that the raw feathers are washed until they satisfy hygiene requirements and are dried at more than 212°F.